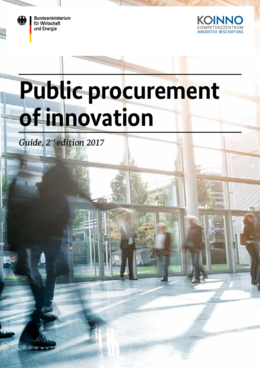 What do innovations, organizational structures and efficient processes have to do with public procurement? At first glance, it is difficult to see the connection. However, public procurement has a special role model function when it comes to the procurement of innovative solutions. This requires suitable structures and processes so that, in addition to day-to-day business, there is time for market observation and communication with potential suppliers of innovations.
The KOINNO guide "Innovative Public Procurement" gives readers a comprehensive insight into the challenges, actors and framework conditions of public procurement.
First, readers receive an introduction to the topic of "public procurement of innovations". Among other things, they learn about the importance of innovations and the added value associated with their procurement. Subsequently, the legal framework conditions are presented, which offer a chance for more innovative public procurement and the guidance goes in addition on selected instruments of innovative public procurement (e.g. innovation partnership, competitive dialogue, functional performance specification etc.). Last but not least, readers learn why an innovatively positioned procurement system is the indispensable basis for the procurement of innovations and how a good framework can be created with it.
In addition, study results are used to show what effects an increase in innovations in public procurement could have. Methods and models are used to illustrate how this proportion can be increased.